Every pet owner wants the best diet for their furry friends and they go above and beyond trying to find the best nutrients.
You have seen people put all kinds of ingredients in dog food to improve their pet's eating habits. Dogs have feasted on sunflower seeds and edamame, but has your dog ever tasted chia seeds?
Scroll down to find out if you should include this edible seed in your dog's diet and we guarantee a couple of other interesting facts you might not have known about this small and flattened ingredient.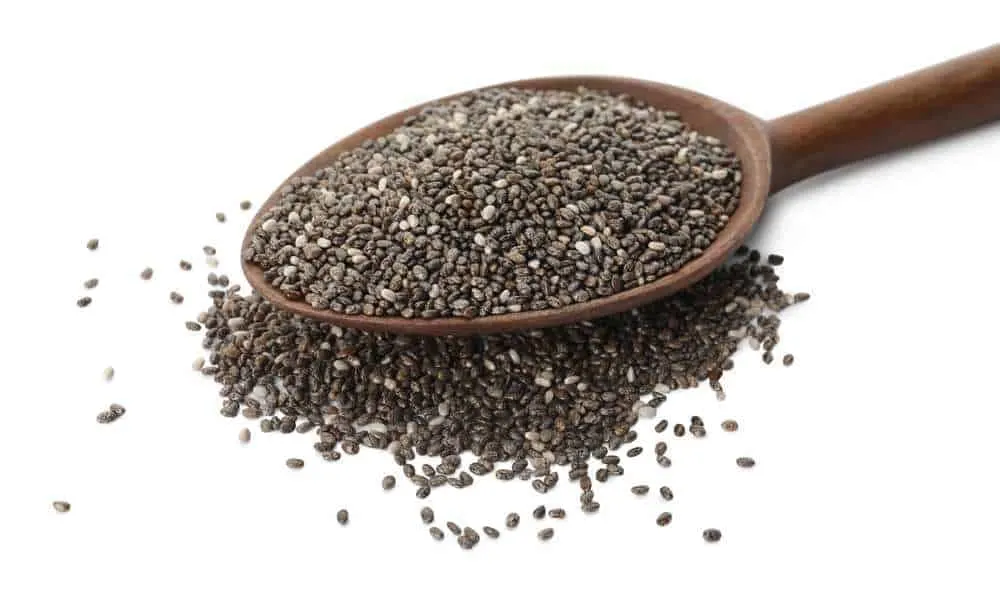 Can Dogs Eat Chia Seeds?
So, you heard that chia seeds are full of healthy nutrients? Yes, they are, they are not only good for you, but chia seeds are a health bomb to your dog too!
Chia seeds are a simple and effective nutrient edible with any dog treat you have. They are extremely healthy for both humans and dogs. Chia seeds lower blood pressure and contribute to weight loss. 
Your dog will benefit from including these seeds in its diet by increasing fiber intake and regulating the digestive system. If you have a chubby dog, chia seeds will help your dog feel full after eating a smaller meal with chia seeds. They are also known for absorbing water well so your dog will be hydrated for a long time. 
Chia seeds are full of omega-3 fatty acids and this is their biggest advantage. Fatty acids have a large role in helping your dog in promoting healthy cells, groomed coats, and improved eyesight.
Looking for a "superfood" to feed your pup? Chia seeds are the best supplement because they are a health bomb, easy to purchase, and completely safe for your pup!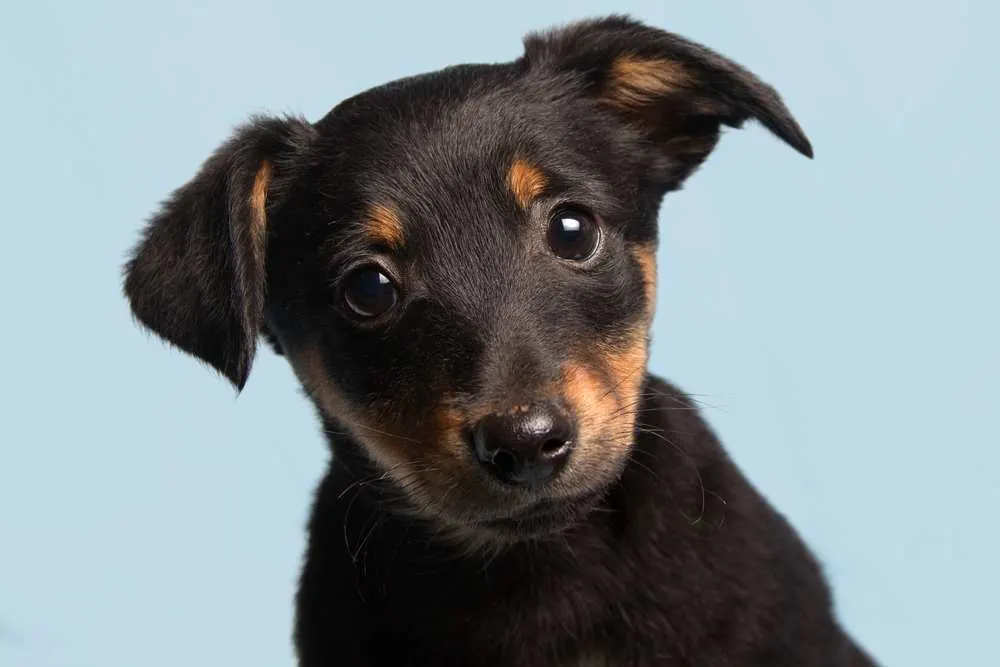 The Nutritional Value Of Chia Seeds For My Dog
Chia seeds are a group of tiny black seeds coming from a plant family in Central and South America. They became popular because of their reputation as a primary source of omega-3 fatty acids.
Over the centuries, chia seeds have had many purposes: they were used in medicine, mixed in drinks, and even pressed for oil. This seed is not gifted with a strong flavor, so you can use it in almost any meal.
According to legend, "chia" means "strength" and the Mayans used this seed as a source of energy. No wonder this has the "superfood" status for your dog!
Want to know the best part? Apart from the fact that chia seeds offer your dog vitamins A, B, D, and E, they are loaded with nutrients like:
Omega-3 fatty acids
Manganese
Calcium
Antioxidant
Fiber
Protein
Iron
Magnesium
Phosphorous
Potassium
Copper
Zinc
It's really a wonder how much this tiny seed can contribute to your dog's health. Now, let's take a look at some health benefits contained in chia seeds:
| | |
| --- | --- |
| Omega-3 fatty acids: | Contribute to the skin, joint, and coat health, reduce inflammation, help the immune system, better eye and brain development, considerably lower cholesterol, and blood pressure. |
| Manganese: | Contributes to bone health, a great source of antioxidants, regulate sugar levels |
| Calcium: | Contributes to bone strength and density and promote dental health |
| Antioxidants: | Contribute to producing cells which prevent cancer |
| Fibers: | Contribute to the digestive system and weight loss, helps the body absorb nutrients, absorb water |
Chia seeds may come in black and white, but there is no difference in the nutritional value. This is an excellent ingredient you can wholeheartedly share with your pup.
How To Find And Purchase Chia Seeds?
So you're definitely hooked on the idea to use chia seeds in your dog's diet. You are lucky because you can find chia seeds in almost any supermarket in your hometown. 
Where to go? The answer is- practically anywhere. This ingredient is sold in Walmart, Target, Trader's Joe, and many more.
When you enter the grocery store, go down the organic aisle because that is where your search should begin. Chia seeds are usually placed somewhere among gluten-free products. 
But, before putting this in your basket, here are the top 3 tips:
Buy whole seeds instead of ground chia – it is more advisable to buy whole seeds from a nutritional point of view
Buy chemical-free chia seeds – look for seeds that are grown in a natural environment 
Buy larger quantities to save money – ask friends or colleagues to share the purchase
How To Store Chia Seeds?
If you're new to this ingredient and don't know where to put it in your kitchen, we have the answer: keep the seeds in a pantry away from sunlight and heat. 
If you have trouble with sealing the chia bag once it is opened, pour the seeds into a container or a freezer bag. Be sure to seal it tight! If you do this right, your chia seeds can last for a couple of years.
Chia seeds don't have any special requests when it comes to storage. In a nutshell, you just need to put them someplace dark, tightly sealed away from moisture and air to preserve their quality.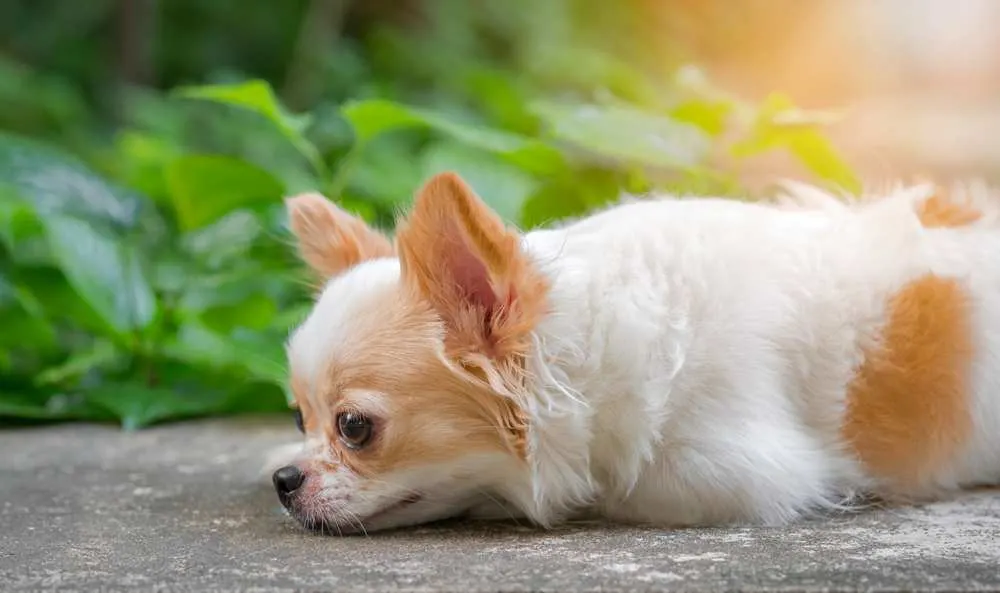 Chia Seeds In Dog Treats
How many chia seeds can my dog have? 1 teaspoon for small dogs 2 teaspoons for large dogs. That being said, here is a recipe for chia seeds in a dog treat. 
What you need to have:
2 tablespoons of olive oil
3 tablespoons of water
1.5 cups of beef or vegetable broth
2 cups of whole-grain flour
1 or 2 tablespoons of chia seeds
What you need to do:
Preheat the oven to 300°F
Combine water and chia seeds in a bowl and leave for about 30 seconds.
Blend and oil in a mixer's bowl.
Put the mixer on a low setting and pour in the broth. This will create dough.
Spread flour and roll out the dough. Create cookie shapes.
Bake cookies for about 30 minutes
Cool cookies before serving.
If you don't have the spare time to spend in the kitchen, you can always opt for a bought version: Chia Seed Coconut Oil Dog Treats. This product is vegan and gluten-free and you can get 40 bones per order. 
This treat is highly recommended for your dog because, in this product, there are:
No meat or dairy products
No sugar
No food coloring
No soy or corn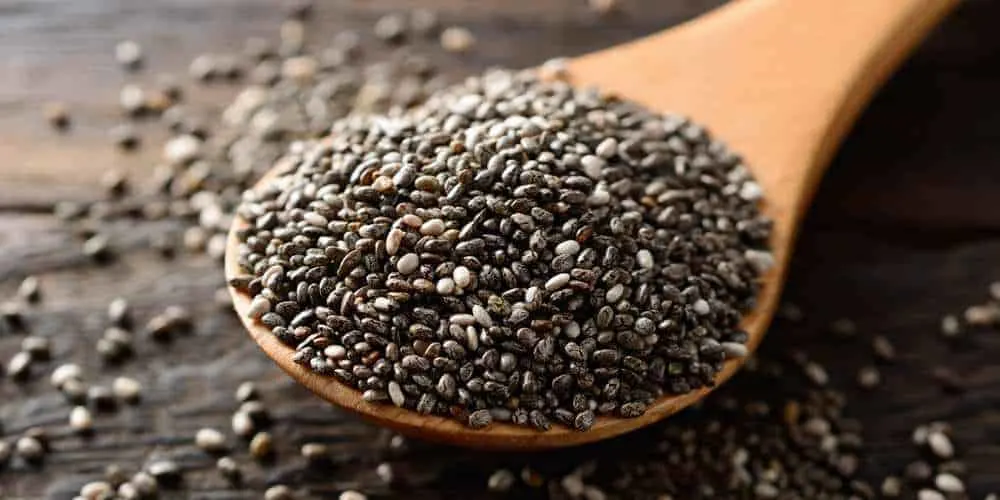 Conclusion
Both you and your dog can enjoy this healthy nutrient. It is filled with vitamins and in this case, helps your dog stay healthy.
Chia seeds regulate fiber intake and improve your dog's digestive system. They are also helpful for owners who have chubby dogs and want to help them get back in shape. 
Chia seeds are rich in omega-3 acids, calcium, fiber, protein, and magnesium. They contribute to your dog's eyesight, brain development, bone strength, and produce cells that prevent cancer. 
You can find these seeds everywhere, from Walmart to Target. When buying them, purchase whole-grain seeds, look for chemical-free seeds and try to get them in larger quantities to save money. 
Chia seeds don't require special attention when storing so just be sure to keep them somewhere dark and tightly sealed away from sunlight and moisture. This will preserve their shelf life and quality.
The perfect recipe for this ingredient in your dog's diet is to make them a part of baked cookies with just a few quick and easy steps to follow. If you don't have time to cook but still want your dog to eat healthily, buy Chia Seed Coconut Oil Dog Treats.
Learn More: What Can Dogs Eat? A Comprehensive List Of Dog-safe Foods